When you are looking for a way to make your Bay Area home even more comfortable, there are plenty of family room additions that will help. The family room is the social and entertainment hub of any home where family comes together to bond and homeowners entertain visiting guests. Because it is such a frequently used space, many Bay Area homeowners are looking for ways to expand their family rooms and make them more functional, accommodating, or just plain fun but are at a loss as to how.
Some of the most popular family room addition options for Bay Area residents include:
Standard room addition with built-in storage
Bump-out addition with glass windows
Green addition
Addition with high/vaulted ceilings
Sunroom addition
Of course, designing these spaces to suit your aesthetics and needs is the real challenge.
Whether you need additional seating or storage space, this article is full of ideas for your Bay Area family room addition! Here, we'll cover five trending options numerous homes in this region are boasting, but we'll also discuss how you can design these spaces yourself to ensure they reflect Bay Area tastes while also being unique.
Top 5 Family Room Addition Options for Bay Area Homes
When you live in a fast-paced, social, and innovative region like the Bay Area, you want your family room to be somewhere you can unwind just as easily as you can use it to entertain. Most homes, in general, are built with family rooms, but sometimes those rooms just don't live up to our expectations, whether this is due to lack of space, poor design, or the room's features simply don't match your aesthetic.
Luckily, there is a way to transform your Bay Area family room into the ideal space you've been needing by installing an addition. The challenge is choosing the type of family room addition that will fill your needs while also reflecting the trends and styles of the Bay Area.
If you're a Bay Area resident looking for some inspiration for your upcoming family room addition, we recommend one of these five options:
Standard room addition with built-in storage
Bump-out addition with glass windows
Green addition
Addition with high/vaulted ceilings
Sunroom addition
These are the most sought-after and popular family room additions in the Bay Area that are sure to fulfill your needs, increase your home's value, and give you one of the most modern and desirable homes in the region.
If you aren't familiar with what these additions entail, don't worry. We're going to discuss each in detail so you can pick the one that suits your circumstances, budget, and vision best.
Standard Addition with Built-in Storage
Although most homes are built with family rooms, there are the rare few that might be devoid of this space, or the family room in your home is so small that you've decided to add a completely separate addition and use the old family room space for something else. In these cases, we recommend opting for the classic standard family room addition.
Generally, family rooms measure about 12ft x 18 ft. This sits right in-between the most common room addition sizes, measuring 12ft x 12ft or 20ft x 20ft. Both of which will provide ample space to any family looking to increase their home's square footage. Of course, the size you choose will really depend on your needs and ambitions for this room.
The standard room addition is undoubtedly the most common choice for a family room addition, but one way to make your addition more unique and beneficial, especially if you're installing an addition for space reasons, is to design the addition with built-in storage.
Modern homeowners in the Bay Area love to see storage features that are an intrinsic part of the room without taking up additional floor space. Having built-in shelves and entertainment spaces will give any family room a more refined and organized look while maximizing space and potentially solving any storage issues you had before the addition.
Bump-Out Addition with Glass Windows
Sometimes, homeowners don't want to add a completely new space for their family room. They like the family room they have just fine but would like to have just a little bit more space. A great way to solve this issue is to install a bump-out addition.
Bump-outs are versatile additions that can measure as small as two to three feet to give a home an additional closet or reading nook, or they can be several feet deep, rivaling the size of an entire room. Homeowners love this option because it allows them to expand off a room, therefore limiting how much your addition affects the rest of your home's layout.
Another reason why these additions are so beneficial is because they are exceptionally cheaper than installing a standard room addition. So, if you're installing a family room addition on a budget, this is the choice for you.
Of course, living in the Bay Area, we can't just add a little bump-out and be done with it. No, you need some extra flair to this room! A great way to do this is to design your bump-out to have a glass wall. This is a highly desirable feature that will allow homeowners to enjoy whatever Bay Area view they get from their property. Having a glass wall will also help your addition feel brighter as it allows ample natural light to seep in, and the space will feel larger since your view spans beyond its physical boundaries.
Green Addition
We certainly wouldn't blame you if you'd never heard of a green addition before, considering this is a relatively new addition option that many contractors might not even offer.
There's no doubt that living in the Bay Area is expensive on its own without the extra cost of a family room addition. If you're concerned about adding the long-term costs of this addition (ex. increased electricity and heating bills) to your already basic costs of living, the green addition is a fantastic option to consider.
Green additions, also called eco-friendly additions, prioritize designing the room in the most eco-friendly manner possible by using recycled, natural, and/or sustainable materials and providing clean, renewable energy sources.
Not only are they great for the environment, but a family room that's connected to a renewable source of power, like solar panels, can actually help you save money over time. Enough to pay off the increased cost of these eco-friendly materials and potentially the addition as a whole.
Addition With High/Vaulted Ceilings
This addition option is our top recommendation for the homeowner who prioritizes how their family room looks and feels over its size.
High or vaulted ceilings are extremely common in Bay Area homes, and after seeing one of these stunning spaces, it's no secret as to why. When it comes to installing an addition, you have to think about more than just square footage, you also have to think about the room's overall layout and design from wall to wall and floor to ceiling, and vaulted ceilings should definitely be in your calculations.
There are countless reasons why vaulted ceilings are an ideal family room addition option. One is that vaulted ceilings automatically gives any space a feeling of grandeur while simultaneously helping it feel bright and airy, thanks to the extra height. Many vaulted ceilings are also designed with tall windows, increasing how much natural light can enter the room.
Another reason we recommend installing an addition with vaulted ceilings is that it's a great way to make a room feel larger if you're too strapped financially to add more floor space. While we understand wanting as much lateral space as possible, don't underestimate the power of vertical space. If you love your family room the way it is, but it feels a bit stuffy or claustrophobic at times, swapping out your low ceiling for a vaulted ceiling might be just the thing you need.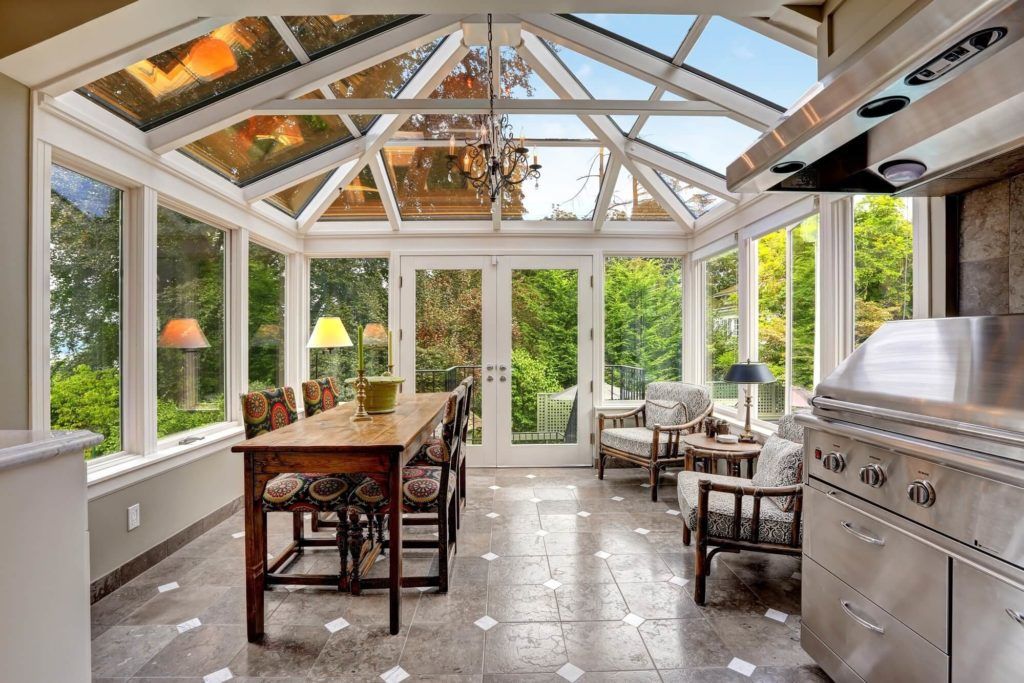 Sunroom Addition
We already know what you're thinking, "a sunroom isn't a family room," right? Well, technically. However, you'd be surprised how many people in the Bay Area are clever enough with their layout and addition designing to seamlessly make their family room into a dual space that doubles as a sunroom.
In essence, a sunroom is a room that receives an abundant amount of natural light and direct access to the outdoors. So, there's really no reason you can't have an addition that functions as both family room and sunroom as long as all of your family room needs are met, and the room is designed to have lots of natural light (usually acquired through several walls of windows) and a door that goes outside.
A sunroom addition is a great option for families that really value the benefits of natural light in their home and enjoy whatever natural or metropolitan view they have from this space.
If you want, you can split your space and have half of the room as the classic family room with a roof and walls that transform into a more open sunroom on the other half. This gives you the best of both worlds from one addition!
Internal Design Tips for Your Bay Area Family Room Addition
We could give you an extensive list of ways to make your new family room addition blend in with Bay Area design trends, but for the reader who wants the cliff notes version, here it is.
Bay Area internal design focuses heavily on bright spaces filled with light, neutral, or natural colors and exude comfort and elegance. Most residents like to prioritize natural light and functionality in their space, with an increased interest in implementing more high-tech appliances and features.
While you should absolutely design your new family room addition according to your specific preferences and tastes, if you want it to fit in with the internal design trends of the region, these are elements you can strive to include.
For the most part, Bay Area residents like to keep their homes calm, comforting, and inviting, most likely to ensure it is a haven from their otherwise hectic lives. So, if this resonates with you, we recommend keeping these tips in mind when you're deciding which type of family room addition you want and how to design it.
Final Thoughts
Family room additions are common nationwide, but certain types of additions might be more beneficial than others if you live in the Bay Area. The addition options listed here will undoubtedly suit your needs and what the region has to offer best. For example, a sunroom or a sunroom-family room hybrid addition might seem like an odd choice, but when you live in the sunny Bay Area that offers breathtaking views, it's a no-brainer.
Just remember to keep your interior design vision in mind as well while you're choosing the addition option that's ideal for you and your family.
Element Home Remodeling is a home addition contractor serving The Bay Area. We are a design build company specializing in custom home addition projects. Contact us today to schedule a free consultation.
Latest posts by Element Home Remodeling
(see all)